Trumbull County Fairgrounds
Trumbull County Fairgrounds is situated in Fairfield, at the Northwest corner of the map, near an Army enclave.
Required to Relocate
   12 Survivors (10 in Breakdown)
   50 Building Materials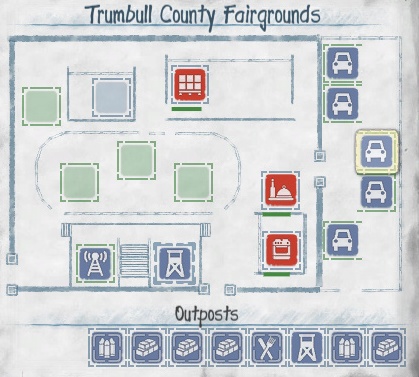 Home Facility's
Four facilities are included with the Fairgrounds: Kitchen, Dining Area, Fairground Storage (equivalent to Food Storage) and Watch Tower. It has five open facility slots (1 internal, 4 external), similar to the Snyder Trucking Warehouse, which has 6 slots but 1 is reserved for the Watch Tower. Parking for 5 vehicles and 8 Outpost slots is available.
Home Storage Capacity
   Food - 110
   Medicine - 110
   Ammunition - 110
   Materials - 190
   Fuel - 110
Outposts Available
8 in total the same as STW, although 5 parking slots are available.
Not my cup of T but I am sure you will have fun on the Fair with the FERALS!!!

Thanks All......