Black Friday Army Base - Lifeline DLC
Black Friday is the only Home site featured in the DLC Lifeline. It serves as the forward operating base (FOB) for the U.S Military in Danforth and extraction point for civilians as well as high-interest personnels of importance.
The player assumes control of the home site after arriving here for the first time, and it cannot be abandoned.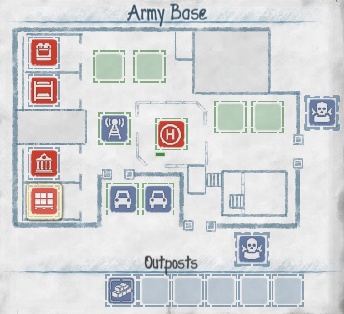 Army Base Facility's
   Perimeter Defenses
   Radio Post (upgrades to Sat-Comms)
   Landing Zone
   Mess Hall
   Barracks
   Ops Center
   Logistics (upgrades to Refrigerated Supply)
Watch Towers' function is replaced by two Guard Posts and 1 building rooftop. (These are not displayed as home-site facility slots, and cannot be interacted with.)
In addition, Black Friday has 4 external facility slots, 2 parking slots and 6 Outpost slots (or 8 with Sat-Comms).
Storage Allowed on Site
   Food - 100
   Medicine - 100
   Ammunition - 100
   Materials - 180
   Fuel - 100
Outpost Available
6 Outpost slots (or 8 with Sat-Comms).
Thanks for reading.
CuRbY...