Parking Area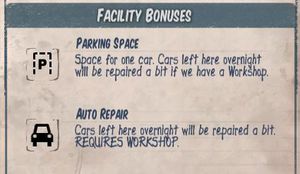 Description
A facility used to park vehicles in. Vehicles parked here are repaired overnight if there is a Workshop or Machine Shop constructed.
Workshop can only repair body and tire damage, while Machine Shop can fully repair vehicles (body, tire, engine, doors, bumpers).
Facility Bonuses
Parking Space - Space for one car. Cars left here overnight will be repaired a bit if we have a Workshop!
Auto Repair - Cars left here overnight will be repaired a bit. REQUIRES WORKSHOP
Supply Drop off - All resources rucksacks contained inside the vehicle are automatically unloaded and added to storage. (All other items like weapons or consumables still need to be unloaded manually by the player)