The Savini Residence.
The Savini Residence is a large one-story building, home to Jacob Ritter's best friend Sally Savini before the outbreak. The treehouse at the location becomes the Watch Tower immediately upon moving into this home site.
The Savini Residence is located in west Marshall, near one of the two bridges leading to the East side. Notably, three sides of the walls are on steep banks which means the Savini Residence can only be attacked from the front. Which I found to be a huge advantage when setting up outposts in which the Savini Home offers a very generous 6 outposts and 3 nice parking slots, although parking can be pain when in rush as you will find out

.
The Savini Residence is relatively easy to defend. With its built-in watch tower, the survivor need not expend resources constructing one. Placing outposts two houses across the road, the house down the street, and the gun shop can allow the player to cover all approaches.
The main disadvantage of the Savini residence is the lack of true interior facility slots- the gazebo, while classed as interior, is functionally an exterior slot. For this reason, the player may choose to place the sleeping and medical areas in the outdoor slots located towards the back of the building, as the gazebo is located right next to the gate and thus is more vulnerable to zombie attack should they get beyond the gate.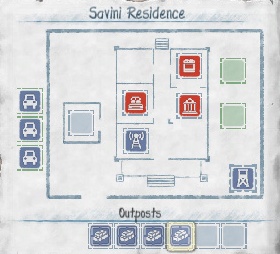 Facilities
The Savini Residence comes with 4 pre-built Facilities: Bedroom, Cooking Area, Library and Watch Tower. It has three exterior slots for additional facilities. Three parking spaces and six Outpost slots are available as explained above.
Home Storage Capacity
   Food - 50
   Medicine - 50
   Ammunition - 50
   Materials - 100
   Fuel - 50
Overall I found this site pretty easy to run once I established all six outposts, mainly during Breakdown I stuck to 8 survivors which I had no need to build another sleeping area freeing up the space for a DoJo or Training Area (Increased Stamina).
And again good luck and have fun.
Feel free to add your own personal tips and journeys based on each home site listed for us all to learn from.
Cheers CuRbY