The Alamo
The Alamo is a small restaurant based in the crowded commercial section of east Marshall, in other words smack bang in the middle of Marshall! Once your outposts are set this site can be very rewarding when on the scavenge!
The Alamo has modest requirements to settle within its walls:
   5 survivors (No requirement on Breakdown)
   20 building materials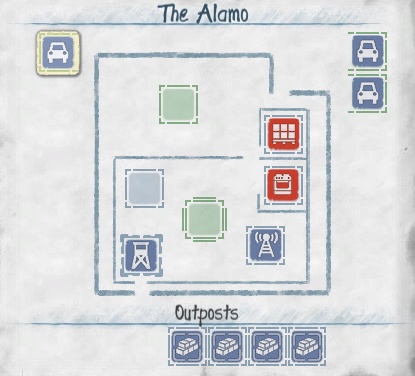 Facilities
The Alamo, upon settlement, contains a pre-built Cooking Area, Storage Area, Watch Tower. Three facilities can be built on the site, one inside, two outside. Notably, one of the facility slots is on the restaurant's roof. Three parking spaces and four outpost slots are available.
Home Storage Capacity
   Food - 65
   Medicine - 65
   Ammunition - 65
   Materials - 90
   Fuel - 65
Outposts Available
Only 4 but if placed well in four opposite corners hoards cannot get near


Overall View on Alamo?
The Alamo is difficult to defend. The site can only support 4 outposts, making a perimeter difficult to establish. Additionally, as the building is located in downtown Marshall, zombies can attack it from all directions.
Improving home site defense must be the primary concern after relocating. The buildings to the north, south, and west should be converted into outposts and have their safe zone extended. Blaine's Grocery, to the east, should also be secured and set as an outpost.
As the Alamo offers only a single interior facility slot, this spot should be reserved for a Sleeping Area or Medical Area to help protect the most vulnerable survivors.
Once the sleeping or medical area is placed in the indoor slot, the second of the two facilities should be placed in the "penthouse suite" on the roof. For instance, one effective combination is to place the medical area indoors and the sleeping area on the roof. There is also a third slot outside the building, which is probably best used for a workshop.
Thanks for reading and hope this helps your out a little if choosing The Alamo.
CuRbY..