Snyder Trucking Warehouse
A large blue building surrounded by a chain link fence in west Marshall, the warehouse offers a lot of space for survivors, plenty of facility and outpost slots, as well as a decent number of parking slots. Coupled with the convenient location, it is among the homesites most suitable for prolonged occupation.
Or perfectly suitable to have around 16 survivors at once as building space is a plenty as are outpost in fact a very very generous 8 outposts are offered, which means defending here is very easy especially with the added survivors and virtually full control of this section of Marshall!
Located in west Marshall at the southwest corner of the map the western Marshall bridge on the Loop road leads directly to STW. It is at the intersection of west Marshall's Bronto Gas Station, Tartan Mini Mart, and Swine & Bovine Restaurant.
Several buildings are nearby, including the aforementioned gas station and food venues. A construction warehouse is sited opposite the Warehouse's front entrance, and the Marshall gun shop is approximately one block east. Other warehouses exist within a two-block radius of STW and can contain fuel or other resources.
Given its location in west Marshall, STW is well-sited for supply runs, giving easy access to the entirety of Marshall and many outlying settlements and farms.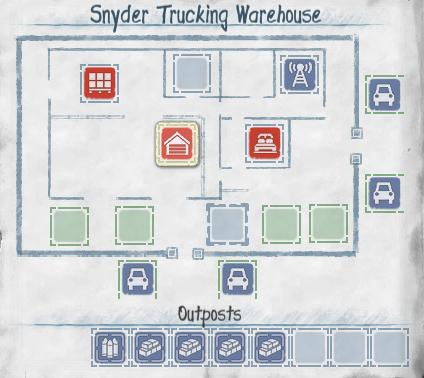 Facility's
Three facilities are included with Snyder Trucking Warehouse: Bedroom, Warehouse Storage (equivalent to Food Storage), and Workshop. Even with the existing facilities, STW boasts an impressive six open facility slots (1 internal, 4 external, 1 for Watch Tower), a level of expansion matched only by the Trumbull County Fairgrounds. Additionally, parking for 4 vehicles and 8 Outpost slots are available.
Home Storage Capacity
   Food - 110
   Medicine - 110
   Ammunition - 110
   Materials - 190
   Fuel - 110
Outpost Available
8 in total

Cheers